Vivienne Westwood Accessories You Need in Your Autumn Wardrobe
The autumn season is fast approaching, which only means one thing - your wardrobe needs an update! And fortunately, acclaimed designer brand, Vivienne Weswood has you covered (literally!). From the newest season's outerwear accessories, to iconic jewellery and bags, here's everything you need to to feel the most fashionable this season.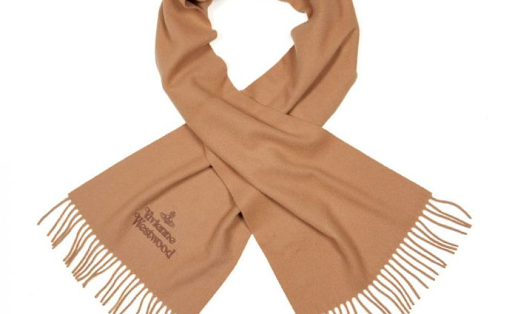 Gold Hoop Earrings 
As the Autumn season approaches, slicked-back buns and ponytails start to make a comeback too. Compliment your updos with these Vivienne Westwood Yellow Gold Hoop Earrings that will flatter any facial silhouette. The Autumn season is all about being bold and daring, and hoop earrings will definitely make sure you stand out.
Embroidered Scarf 
Complete your looks this Autumn with this comfortable camel Vivienne Westwood Embroidered Lambswool scarf. The Autumn season is all about neutral to dark colours and this scarf definitely fits the theme well. We all know the Autumn weather can be confusing at times with some days being cold and some days hot, or a bit of both. This stylish scarf is suitable for warm and cold days as it's not too heavy nor too light. 
Charlie Frame Shopping Bag
Check prints have always been a staple for Autumn seasons, and to be honest we don't see them going anywhere. Get the memo this Autumn with this Vivienne Westwood Check Print Shopper Bag that represents all the beautiful earth colours of Autumn. The multi-colours of this bag means that you have plenty of outfit options to style it with. Get the matching Vivienne Westwood Check purse to make the ultimate statement.
Oslo Yellow Gold Ring 
The colour of gold is a popular choice for Autumn. Finish off your looks with Autumn colours that add a bit of glow during those dull cold days. This Vivienne Westwood Oslo Yellow Gold Ring is an essential this Autumn for every occasion. It is a versatile ring that can be paired with many other accessories which means you can achieve different looks with this one ring.
Lynette Pearl Heart Earrings 
Pearls are an easy way to achieve a timelessly elegant look. Pearls are becoming really popular this Autumn so why not join the fun by decorating your ears with these Vivienne Westwood Lynette Pearl Earrings. These earrings put a spin on the traditional pearl designs with a distinctive silhouette (It wouldn't be Vivienne Westwood without an element of uniqueness). For evening occasions, why not go for the Vivienne Westwood Pearl Drop Studs that add warmth and opulence to any room. 
Classic Gloves 
As chilly days cripple in, a stylish pair of gloves are a must this Autumn season. Channel your inner Kate Middleton with these leather Vivienne Westwood Classic Gloves that make you feel like royalty and add a touch of sleekness to any outfit. The versatile nature of these gloves means that they compliment most coats or cardigans. Made from premium patent leather, these gloves are a comfortable accessory that can be worn day and night.
Greenline ORB Belt Gunmetal 
Colder days are coming and that only means that you'll be taking out your knitwear and cardigans soon! Have you been looking for new ways to rock and transform your cardigans? If so, glamourise your autumn looks with this emerald Vivienne Westwood ORB Gunmetal belt that can be wrapped around the waist for a chic look. Wrapping a belt around the waist instead of buttoning up your cardigans is a great way to make an outfit more chic and stylish, whilst also accentuating your shape. The emerald green gives you a look of elegance and opulence. Pair with a light nude cardigan for a beautiful contrast. 
Polly Tote Bag 
Keeping yourself toasty during the Autumn season means you have to carry a little bit more. The uncertainty of the Autumn weather means that you always need to be prepared for the changing weather. This flame red Vivienne Westwood Polly Tote Bag is here to save the day. The generous size of this bag means you can pop your gloves, scarfs, and many more accessories in and out throughout the day without having to worry whether you'll be warm or cold. But of course, the bag is also a stylish piece. The vibrant red colour adds boldness and brightness to your cosy outfits. 
Victoria Envelope Clutch 
It's near the end of the year, which only means one thing...party season is fast approaching. Stay on trend this Autumn season with the gold Vivienne Westwood Victoria Envelope Clutch that illuminates every room you walk into. This bag is the ultimate outfit-elevator and will add class to your evening ensembles.
Savannah Feather Pendant Necklace 
Although Autumn is all about the golden hues, silver dazzling necklaces get a pass this season too! The Vivienne Westwood Savannah Feather Pendant Necklace adds brightness to the duller days and exudes a glowing sensation that everyone needs during the season. The durability of the necklace makes it a timeless classic that will last you many more Autumns to come.
Shop online or visit our stores for more Vivienne Westwood accessories to keep you warm and stylish this Autumn.